The Northern Institute of Applied Science has led the development of adaptation strategies and approaches for a variety of natural resource topics, which can be used with the Adaptation Workbook. These "menus" provide a curated list of adaptation actions to help you move from broad ideas to specific actions. Although menu items can be applied in various combinations to achieve desired outcomes, not all items on the menu will work together. Furthermore, actions that work well in one ecosystem type may not work in another; it is up to the land manager to select appropriate actions according to project location and goals. Learn more about the workbook.
These resources were designed for the Midwest and Northeast U.S., and are a product of a synthesis of academic literature and widespread input from the management community. However, these tools may be useful in other regions as well. Adaptation actions for other regions are also available through the USDA Forest Service Climate Change Resource Center.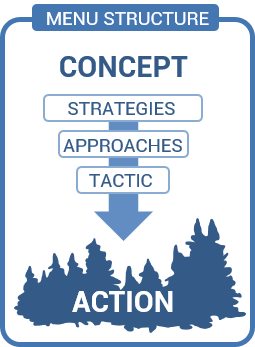 Menus of Adaptation Strategies and Approaches, by topic:
Forest Strategies and Approaches Developed for forested ecosystems, with focus on forest management and planning.
Urban Strategies and Approaches Developed for resource managers working in urban ecosystems.
Forested Watershed Strategies and Approaches Developed for water resources management; with focus on hydrology, vegetation management, landscape planning, and infrastructure.
Agriculture Strategies and Approaches Developed to assist agricultural producers, specialists, and technical service providers.
Other resources currently in development:tribal perspectives, wildlife, forest-carbon, recreation, sea-level rise
The adaptation strategies and approaches can provide:
A full spectrum of possible adaptation actions that can help sustain healthy ecosystems and achieve management goals in response to climate change
Opportunity to inspire thinking and spur brainstorming for adaptation planning
A menu of adaptation actions from which managers select actions best suited to their specific management goals and objectives
A platform for discussing climate change related topics and adaptation methods
Examples of tactics that could potentially be used to implement an approach, recognizing that specific tactics will be designed by the land manager.
The adaptation strategies and approaches do not:
Make recommendations or set guidelines for management decisions. It is up to the land manager to decide how this information is used.
Express preference for any strategies or approaches within an ecosystem type, location, or situation. Rather, a combination of location-specific factors and manager expertise is needed to inform the selection of any strategy or approach.